ERASMUS+ SPORT – Volunteering through Sports

ERASMUS+SPORT is connecting enthusiasts of sport and sports volunteering from Europe.
VOLUNTEERING SPORTS IN YOUR CITY IN YOUR REGION is an international project realised under the Erasmus + Sport program financed by European Union. The Project was realised for a period of 18 months, i.e. from January 2019 to June 2020, together with seven foreign partners from Europe.
Project partners included representatives of sports clubs from Spain, Sweden, Bosnia and Herzegovina and local governments from Poland, Slovenia, Portugal and Hungary.
The aim of the project is to create an expert base in Kielce, Poland in the field of sports volunteering on a European scale.
As part of the project, first of all, the exchange and codification of good practices in the field of volunteering in sport in Europe will be undertaken. The key element of the project will be the creation of original handbooks of European practices and training programmes for sports volunteers.
The project was inspired by the great attitude of volunteers at the U-21 European Football Championship and the Women's U-18 World Handball Championship, organized in Kielce, Poland.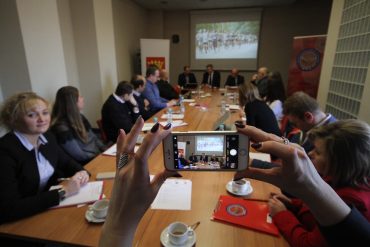 The partners of the project:
1. Town Hall in Kielce from Poland
http://www.um.kielce.pl/akt-wol-pl
2. CLUB BALONMANO GRANOLLERS from Spain
bmgranollers.cat
3. LUGI HF from Sweden
4. Mladinski kulturni center Maribor (The Youth Cultural Centre Maribor) from Slovenia
www.mkc.si
5. The Municipal Council of Braga from Portugal
https://www.cm-braga.pt
6. Association Footbal Club Željezničar from Bosnia and Herzegovina
https://fkzeljeznicar.ba/
7. Municipality of Budapest from Hungary
https://www.csepel.hu/